SlideUp is a location based dating app where people can find the perfect dating partner and get linked with them in a friendly manner. The mobile application is available on both Google Play store and Apple store.What is SlideUp Dating?Slide Up Dati...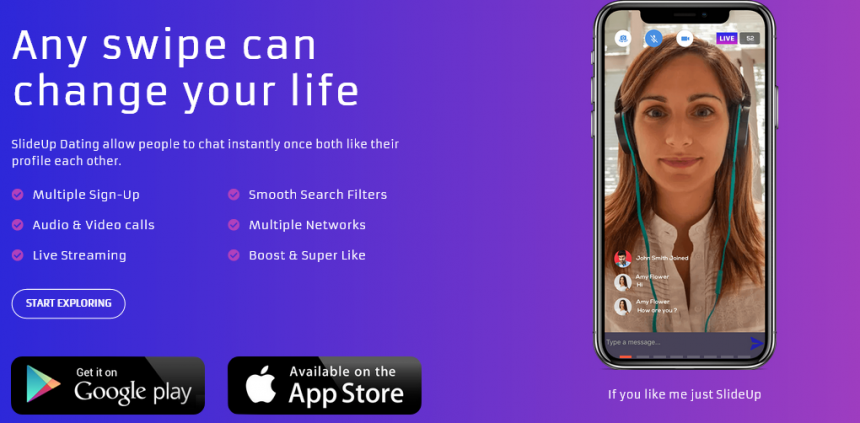 SlideUp is a location based dating app where people can find the perfect dating partner and get linked with them in a friendly manner. The mobile application is available on both Google Play store and Apple store.

What is SlideUp Dating?
Slide Up Dating app allow people to chat instantly once both like their profile each other. People can create group and invite other groups to join and talk.
Users can upload photos, set their age, birthdate, gender and they can also provide more specific data such as About, Current work and School information.
Users can search for a dating partner using the following filters: Gender, Distance and Age.
Users can change the modes based on their interests. They can get matched with the users of the same interest through the selected modes.
Premium users can make audio and video calls and Gold users can use the live streaming feature.
NEW - SlideUp Dating is using an Artificial Intelligence algorithm in order to detect nude content. Each photo that is uploaded by users will be scanned for nudity. Pictures containing nude content won't be accepted by the application. Users that try to submit nude photos will be reported and their profiles will be manually checked.
NEW 2 - SlideUp Dating added an Events functionality that allows users to buy tickets for events, add events to favorites and chat with other users that are going to the same events. The app Events page will show the information based on user's location. The events will also be sorted by their date, upcoming events will appear first. Slide-Up users will find music events, technology meetups, dating events, concerts, tech conferences and more.
Slide Up dating: Things you need to know
We live in a time where relationships between different individuals can be built over the internet as well. Yes, it is now possible to make new friends or meet new partners via an online dating application that is called as Slide Up dating app.
The Slide Up dating app is known to be a location-based application that tends to allow users to connect to other people over the network. It does not matter how far you both are but you can always stay in touch by just swiping right to the person you are interested in.
However, the majority of people who are new to such technology do not have a good idea about how it works or what the features are. Therefore, today we will discuss the Slide Up dating app and the features that make it a unique application.
How does the Slide Up dating app work?
Slide Up dating application is a sort of online dating application that is based on your location. It is a platform where you can connect with various types of people and can be able to find the ideal dating partner. Here, on this platform, you can meet and make relationships in a friendly or open manner.
· Allows various chatting options
Slide Up dating application also enables the users to start chatting with each other. However, the chatting option is only available when both individuals like each other's profiles. Users are also allowed to participate in group chatting by creating a group chat and adding several people at a time.
This can be a good interaction with all types of people and get to know more about each other. You can also invite them over a chat or video calling session and tell them the littlest details about how your day went.
· Enables group invites
The group invite is sent through chats and in the form of links that are quite easy to access anytime you want. Moreover, the other pros of this dating application are that users can easily upload their pictures, videos, and much more without any security and privacy issues. The users are also asked to set their date of birth, age, height, and gender so that the other person viewing the profile has some information about them.
· Based on an artificial intelligence system
This dating application is based on the artificial intelligence system or logarithm. It is There to scan for any nude content that might be present on the site in form of messages or more. Pictures that are uploaded on the application are always scanned by the application. To make sure that the picture fits the content allowance of the application.
However, despite all this security if still, some users try to upload nude content their pictures are reported, and simultaneously get their profiles locked for manual checking. Therefore, by using this application you do not have to worry about your identity or privacy. Since the methods of using this application are quite safe on all levels.
What are the features of the Slide Up dating application?
If we talk about the features of the Slide Up dating applications then there are countless of them out there. However, some of the major and highlighted features of this application are mentioned below in further detail.
Allows the multiple signs in and sign-up option
The first and most important feature of this dating application is that the users can easily log in, sign in, or sign up wherever and whenever they want to.
They can use their Facebook identity, contact number, and apple ID as well to make sure that they are properly logged in to the system. It is both safe and secure this way and also ensures that it functions ideally on both systems that are either iOS or Android.
Easy filter search is available
This application has also many other services that include easy searching tools for a countless number of filters. It makes sure that users get the best things that they can work over without any hassle. It also enables the users to search out for the people's age, identity, gender, and much more but the help of an easy searching filter.
People can change the various mode types anytime they want but going into the application's settings. Hence, with this feature, you can enjoy and experience a dating app for connecting with other people without any further hassle.
Allows the purchasing of times within the application
Next is that the Slide Up dating app also uses the option for the in-app purchasing that is allowed for the payment if the user is interested in the other features that require some amount of fees to be paid. Since several features can be used only when they are paid for by the user.
· This feature includes seeing who and how many likes did your profile get, options like rewind, super likes to feature, boosting, and much more.
· All these exclusive and interesting features are usable only once if you have paid for them.
Hence, the purchasing options for such purposes are quite good and free of any hassle.
Comes with easy to manage algorithm
The dating application of Slide Up is quite easy and simple to use. You do not have to go the extra mile to work up with it since the system is simple and nothing complicated. The users can easily change or update their profile picture if they want, they can change and edit their bio or profile information anytime they want. Hence, it is ideal for the people who are beginners to the dating applications.
No delayed notifications
This app does not keep you behind the notification systems and always makes sure to keep you updated all the time. Here at the Slide Up dating app, the users are notified instantly when anyone likes their profile or messages them. This way you can always keep tabs on your followers, and friends that you have recently connected with. Therefore, do not worry about missing any kind of instant notification.
What makes the Slide Up dating app unique?
There are several ways in which the Slide Up dating application is known to be unique. However, some of the major ways in which the app can be categorized as a unique one is mentioned below.
Offers various user modes
This application has to offer many modes that can be easily used by users. The majority of people can change the modes as per their interest and can be able to get linked with their alike people. Or that has similar interests. Hence, if you struggle with perfect matchmaking then the Slide Up dating app can be the perfect solution for you.
Offers boosting your offer option
The Slide Up dating application also offers the users the option that allows them to keep their profile on the top of the search bar for approximately 30 minutes or more. This factor that makes it unique among other apps helps the users with increasing their engagement levels.
In this way, your profile can get much better views and better chances of finding the perfect friend or partner. Hence, if you struggle with the promotion of your profile then you can look up this boosting option.
Offers super like options
Next is the super-like option that is present there to let people show more interest in your profile and pictures. This happens while the interested person is swiping right and likes anyone of your photos.
The one who super liked your profile will be then added to as a highlighting series with a symbol of the star while swiping. So, this can be a good way to let people know that you like them or would love to communicate with them via chat by using the Slide Up dating application.
Allows live streaming
This option is also available on the Slide Up dating system that is present over the network. With this app live streaming has never been much easier and better.
· It is ideal for people who want to update their friends and partners about how their day is going or give tiny details about it.
· This feature allows the users to get matched and find their soulmate once they get to know more about you.
· Moreover, for using this feature you do not have to be a professional dating app user.
It can be quite easy for a beginner or a newbie as well. But you must have a solid internet connection while you live streaming.
Gold options
This option is also called as Slide Up Gold. This feature that makes it unique is that the users can boost their profile and content without any complications. It can also offer you unlimited likes, super likes, and high engagement levels. Hence, if you are in a hurry and want good matches then you can avail this option.
Final Remarks:
There are several dating apps available over the internet. However, choosing the right ones without any bugs is the main task. While it might seem to be a daunting task, however, with the Slide Up dating application all problems can be solved as it offers the perfect and ideal matches.
Official Website: https://slideup.com

Facebook: https://www.facebook.com/slideupdating

Twitter: https://twitter.com/slideupdating